Ontario's only degree program integrating visual, media and performing arts with computer science and engineering.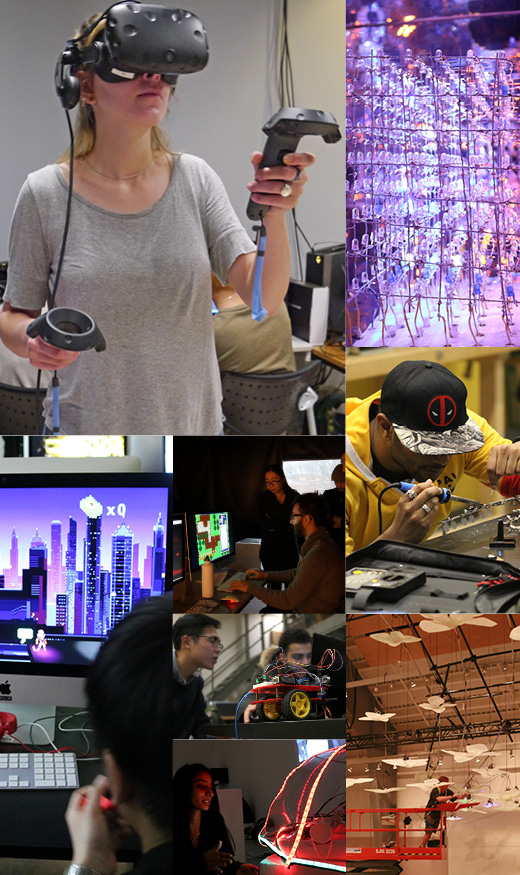 ABOUT
Computational Arts
Explore and create technology that drives the evolution of our interconnected world. Representing a broad range of interdisciplinary activity that intersects art and science, Computational Arts is the AMPD home for the joint Digital Media Program between Lassonde School of Engineering and AMPD. Computational artists use methods of computation and computational thinking as expressive tools for critical and artistic creation. Through creative coding, creative data visualization, and novel human computer interfaces they conceptualize and design experiences that result in video games, mixed reality, sonic arts, physical computing, creative coding, and interactive technologies. Computational Arts fosters creativity and innovation by encouraging a hands-on framework of learning by inhabiting multidisciplinary research through collaborative team building, real-world problem solving, and experiential education opportunities.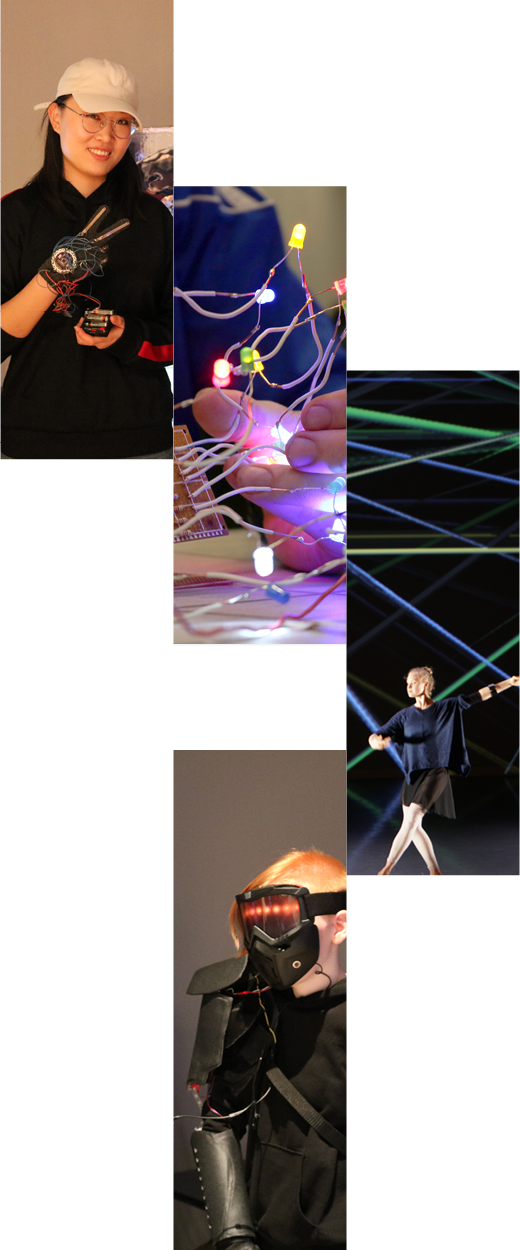 YOUR COMMUNITY
Collaborate with students and faculty in engineering, science and across every arts discipline to transform the way theatre, film, visual art, dance and music are produced and experienced. Connect with the creative research through Sensorium, York's Centre for Digital Arts & Technology, where you will find a vital source of like-minded innovators, new ideas, and experimentation.
YOUR CHOICE
After developing a foundation in hands-on digital art-making alongside courses in computer science, and Digital Media Studies, you specialize in one of three streams: Digital Media Arts, Digital Media Game Arts, or Digital Media Development. You will have the option of applying for a paid internship in your third year. You'll learn to use programming to create experiences that integrate digital media into mobile apps, games, immersive and 3D environments, interactive performances and more.
YOUR CONNECTIONS
AMPD's ground-breaking achievements in 3D and interactive virtual reality, mobile media, bioinformatics, sustainable technologies and advanced digital content make it the go-to place for prospective employers and industry partners. Check out Maker Days, and the annual Digital Media exhibition which is a great opportunity to collaborate with other creators, extend your experience and showcase your work.
OUR CREATIVE SPACES
Transmedia Lab
HIGHLIGHTS
A Brief History
2008
The Digital Media Program is founded as a joint initiative between AMPD, Electrical Engineering (EECS),and Communications Studies, the only program like it in Ontario. Digital Media had a small beginning with only a handful of faculty and students in the early years.
2015
The Department of Computational Arts was created to house the program in AMPD.
2015
Digital Media expanded its curriculum by adding the Game Arts stream alongside the existing streams in Media Arts Development and Digital Media Development, becoming the program that is offered today.
2015
The Department of Computational Arts launched a graduate program in Digital Media in collaboration with Electrical Engineering and Computer Science.
FACULTY AND STAFF
People of Computational Arts
Associate Professor
Don Sinclair
Associate Professor
Mark-David Hosale
Associate Professor
Michael Longford
Professor Emeritus
Nell Tenhaaf
Associate Professor
Doug Van Nort
Associate Professor
Graham Wakefield
Assistant Professor
Joel Ong
Assistant Professor
Yifat Shaik
Assistant Professor
Shital Desai
Associate Professor
Jane Tingley
Assistant Professor
Sihwa Park
Assistant Professor
Emilia White
Be Part Of A Community
Getting Involved